Salmon in the Classroom (SIC) is a conservation-oriented environmental education program that is tailored for elementary, middle, and high school students. SIC is experiential-based and can be applied in science, math, language and fine arts classes. Most programs end the school year by releasing their salmon in a state-approved stream or watershed near the school.
Over the course of the school year, the students will do the following:
Raise salmon/trout from eggs to fry
Monitor tank water quality
Engage in stream habitat study
Learn to appreciate water resources
Foster a conservation ethic
Grow to understand ecosystems
SIC was started in Canada in the 1970's. It spread to California in the 1980s, and that is when a local Chapter of Trout Unlimited first provided support through financial grants, help in setting up the  aquarium, conducting classroom presentations, and assistance at the salmon fingerling release. Now Trout Unlimited helps support more than 5,100 schools in 33 states across the country along with many government agencies, local organizations and volunteers.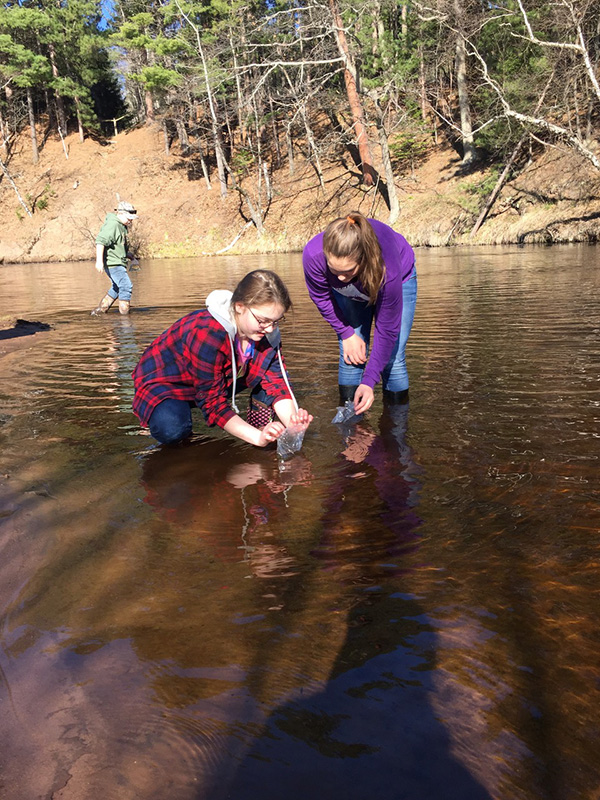 The Michigan Department of Natural Resources (DNR) administers the SIC program in our state. They began the program in 1997 with a handful of schools. Since then, the program has grown significantly to many schools throughout the state. FWCTU has been a supporter of the SIC program since the early days starting with one school in our region and now supporting nine schools during the 2021-22 school year. Participating schools and their communities—from west to east—in our region include:
West Iron Schools (Iron River)
Woodward Elementary (Kingsford)
Powell Township Schools (Big Bay)
Gwinn Middle School (Gwinn)
North Star Academy (Marquette)
Cherry Creek Elementary (Marquette)
Escanaba High School (Escanaba)
Gladstone Middle School (Gladstone)
Superior Central Schools (Eben)
The program is licensed by the Michigan DNR, and the salmon eggs and food are provided at no cost. The average cost to set up a program is approximately $1,200. To date, FWCTU has paid for the startup and maintenance cost at all of our participating schools. In addition, a small team of chapter members assists teachers in the initial setup of their tanks and program.
For more information on how to bring this fantastic program into your classroom, please contact Curt Noel at [email protected].