Fish the Betsie River for migrating Lake Michigan chinook salmon, brown trout, and steelhead in the fall and the annual spring spawning run of steelhead.  Fall steelhead are much like the spring steelhead; water conditions are absolutely key to a good run.
The Betsie River is located in Benzie County, 30 miles south of Traverse City, and offers anglers some of the finest salmon and steelhead fishing in northern Michigan.  The Betsie River flows west and before emptying into Lake Michigan it flows into Betsie Lake, which is connected to Lake Michigan.  The river has a mix of sand, gravel and clay bottoms, and the depths vary from long shallow flats to short, deep, cool holes for fish to hold in.  The river is anywhere between 30 and 60 feet wide and is relatively easy to wade.
Because of the watershed's composition, the Betsie River can be easily affected by rain and run-off, and this impacts the fishing. While these surges of water "muck up" the fishing for a while, it is the catalyst that brings more migratory fish into the river.
Pat Moore of Moore Outfitters, has been fishing the Betsie River for over 20 years using a drift boat or raft for access to most of the river's private property prime spawning areas.
FISHING REPORTS
Moore Outfitters (Pat Moore)
Email:  [email protected]
GUIDES
Moore Outfitters (Pat Moore)
Email:  [email protected]

LODGING
Crystal Adventures
DINING AND DRINKS
Iron Fish Distillery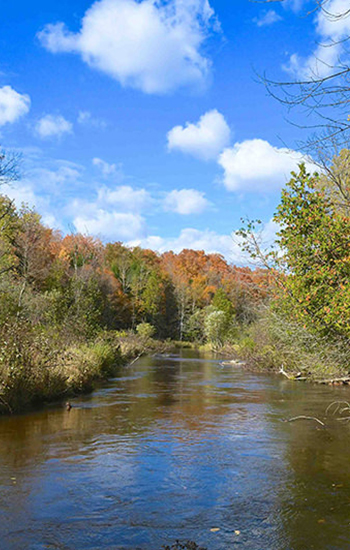 BETSIE RIVER AT BENZONIA