Michigan's Upper Peninsula has a storied fly fishing history and some amazing lakes and rivers. Rugged and wild, this place is a haven for low-pressure streams and backcountry trout. From Hemingway to Robert Traver, the U. P. has drawn anglers for centuries.
The Upper Peninsula of Michigan – also known as Upper Michigan or by the U. P. – is the northern and more elevated of the two major landmasses that make up the  state of Michigan; it is separated from the Lower Peninsula by the Straits of Mackinac. It is bounded primarily by Lake Superior to the north, separated from the Canadian province of Ontario at the east end by the St. Mary's River, and flanked by Lake Huron and Lake Michigan along much of its south. Although the peninsula extends as a geographic feature into the state of Wisconsin, the state boundary follows the Montreal and Menominee rivers and a line connecting them. The Upper Peninsula contains 29% of the land area of Michigan, but only 3% of its total population.
Michigan's Upper Peninsula has about 4,300 inland lakes and 12,000 miles of streams. These waters are populated with brook trout, brown trout, rainbow trout, steelhead, lake-run browns, smallmouth bass, pike, and musky. In short, the Upper Peninsula of Michigan has more than its fair share of amazing fishing, interesting wildlife, and beautiful scenery.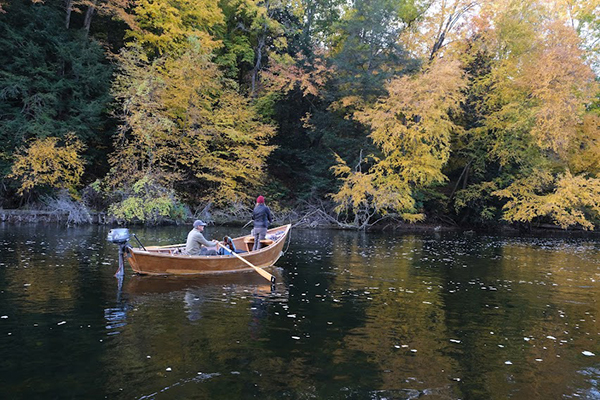 Brook, Brown and Rainbow Trout
The Upper Peninsula's trout fishery is very diverse with native brook trout plus browns and rainbows. Fly fishing options include dry fly fishing, nymphing and streamer fishing on one of the many streams, rivers and lakes that populate the region.
Unique to U. P. are coaster brook trout—a migratory fresh water form of brook trout that spends part of its life in the nearshore waters of the upper Great Lakes. Once abundant and widespread, they are big, colorful, highly sought after sport fish willing to hit flies, live and artificial baits. Historically, most of Lake Superior's 3,000 miles of shoreline and tributary streams supported fishable coaster brook trout populations.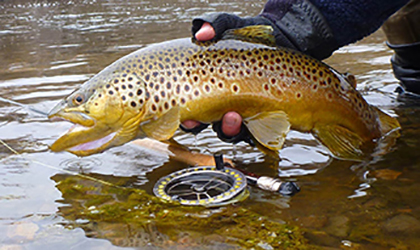 Steelhead
Lake Superior steelhead average 3-6 pounds. Fly fishing for spring steelhead begins in early April, and depending upon when spring melt off occurs, usually fish are available until mid-May. The annual Spring spawning migration accounts for the largest amount of steelhead in the U. P. Lake Superior and Lake Michigan river systems. During this timeframe nymphing with single-handed rods is the most productive fly fishing method.
Rainfall dictates the U. P. Fall steelhead fishing season. Ample rainfall in October will bring a push of steelhead from the Great Lakes to winter over in U. P. rivers. This fishery starts in mid-October and has winter fishing opportunities until the Spring run occurs.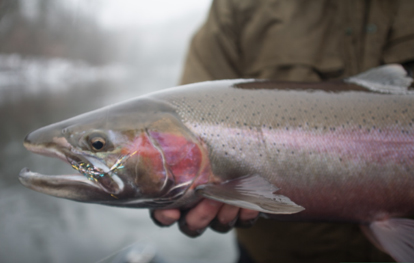 Chinook and Coho Salmon
Fly fishing for chinook and coho salmon in the U. P. is a great opportunity to enjoy Fall colors and catch big fish. Every Fall mature chinook and coho salmon make their annual spawning migration in the U. P. The season begins in late September targeting these huge fish. Surf casting at river mouths on both Lake Superior and Lake Michigan is a very productive and exciting way to catch these huge fish. Spey rods are used with streamers to target these fish in the surf as well as in the rivers early in the run. Salmon will chase properly presented streamers quite aggressively. Averaging 6-20 pounds, these fish when hooked surfcasting are quite the battle. Once the fish enter our rivers, you have until early November to enjoy the fishery. Nymphing with single-handed fly rods can be quite productive. Once in the stream, these migratory fish represent an excellent opportunity for novices/beginners to experience salmon fly fishing for the first time.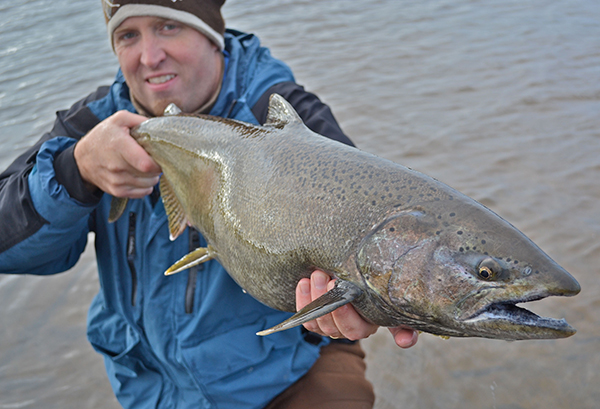 Atlantic Salmon (St. Mary's River)
Atlantic salmon—one of the most prized game fish in the world—are known for their leaping and fighting ability. Although they were once native to Lake Ontario, they were extirpated from the Great Lakes before 1900. They were successfully reintroduced to the other Great Lakes in 1972 when Michigan stocked around 20,000 young Atlantic salmon in the Boyne and Au Sable rivers. Currently Great Lakes Atlantic salmon stocking efforts in Michigan are maintained by a spawning run and brood stock collection on the St. Mary's River, where eggs and milt are collected at the Lake Superior State University laboratory.
Situated in Sault Ste. Marie, Michigan, the St. Mary's River is the sole outlet of Lake Superior. This river system travels eastward roughly 70 miles to Lake Huron.
Late June, the 2-5 year-old Atlantic salmon make their journey upstream from Lake Huron through the St. Mary's River. These adult Atlantic salmon stage behind the Sault Edison hydro plant–which makes for a premier fishery from June through August. This is a truly a fishery unique to Michigan's Upper Peninsula. Fly fisherman from all over the world travel to the St. Mary's River to fish for Atlantic Salmon.
Spawning migrations vary by stream of origin, but the St. Mary's River run typically begins in mid-summer and runs until November when spawning commences. Atlantic salmon can potentially spawn multiple years. When they move downriver as yearlings to the Great Lakes, they grow rapidly and weigh 3-6 pounds after one year. Some return to their spawning grounds after this first year while others wait an extra year or more, growing to a weight of around 6 pounds.
In 2011, Michigan DNR (MDNR) implemented an expansion of the Atlantic salmon program targeting four Lake Huron locations including the St. Mary's, the Au Sable and the Thunder Bay Rivers.  The fourth location is the port of Lexington in southern Lake Huron.  The MDNR stocking targets are approximately 45,000 at each of the four sites for a total of 180,000 smolts per year, with the goal of reaching two percent return to angler's catches.
Fly Shops
Guides
Dark Waters Fly Shop
Rivers North Guide Service
Superior Outfitters