The Stimulator
By Jim Jenkin
The Stimulator pattern is extremely versatile and a good addition to your fly box in a number of sizes. Personally, I carry a good number of size 14 for fishing UP streams. This fly is also good for other species from Bluegills to Smallmouth, when fished in various sizes. When fishing it,
give it a coat coating of floatant to keep it dry and buoyant. The design of this fly allows for it to be fished in many ways. It can be cast upstream and fished as a traditional dry fly on a dead drift, but this is only the beginning.
Another strategy is to fish it upstream and to one side, let if drift to a downstream position, give it a tug pulling it under water, and often fish will strike during this action.  With the heavy hackle, a few false casts and the fly is dry and floating again for a repeat performance.
A new technique which a fishing partner just discovered recently on some UP streams is to cast it directly downstream in the riffles and then lift the rod tip making it skitter back up stream. This proved to be a very effective technique and imitating the behavior of many caddis flies. The Brookies were coming out of the water after it, even when little else was happening.
If you have not added this fly to your collection, you need to seriously think about it.  It has produced results for me here in the home waters of the UP as well as out west and in the Smoky Mountains, making a truly versatile fly.
See Stimulator fly tying materials and step-by-step instructions handout.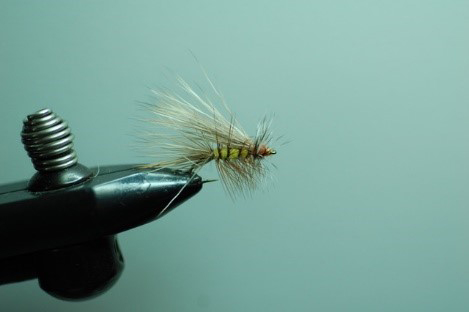 The "Madam X"
 By Jim Jenkin
This is a great attractor pattern whose development is credited to Doug Swisher. While being a great hopper pattern, this fly is also a good attractor pattern and can imitate a number of insects including Cicada, Stoneflies, and Dragonflies. This was a favorite pattern in East Tennessee, but I have used it all over with success.
This fly pattern gets its name from the rubber legs which when tied on each side of the hook form an "X" when you look at it from the top.
Tie a few up and give it a try!
See Madam X fly tying materials and step-by-step instructions handout.