Northern Wisconsin is a region that has large forested areas containing many rivers and streams of varying size and character.  Rivers such as the Wolf River, Peshtigo River, and the Bois Brule River are some of the wildest and scenic in the Midwest.
The scenery alone is a great reason to give a Northern Wisconsin river or stream a try. Anglers looking for solitude don't need to look any farther than one of the many Northern Wisconsin rivers and streams—most of them see few fishermen; only a few are ever crowded.
The rivers and streams in Northern Wisconsin vary in their character and size. There are freestone streams that violently tumble over bedrock and spring creeks that slowly wind their way through prairies or bogs.  Brook trout streams are common in the north woods.  Some are small and wooded, but others are large enough to be fly fished easily.
The Upper Wisconsin River originates in the forests of the North Woods District of northern Wisconsin, near the border of the Upper Peninsula of Michigan.  It flows south across the glacial plain of central Wisconsin, passing through Wausau, Stevens Point, and Wisconsin Rapids.  The Upper Wisconsin River is a river with many flavors. In the northern most stretches it is a wild river with rapids, dense forests and giant rocks. As it flows south the river widens and slows down. The Upper Wisconsin offers world-class smallmouth and muskie fishing.
Stevens Point is the gateway to not just the Upper Wisconsin River and other northern Wisconsin rivers and streams, but also area lodging options.
FISHING REPORTS
FLY SHOP
GUIDES
LODGING AND DINING
Holiday Inn Express and Suites Stevens Point (Stevens Point)
Comfort Inn (Plover)
Hampton Inn (Plover-Stevens Point))
Courtyard by Marriott Wausau (Wausau)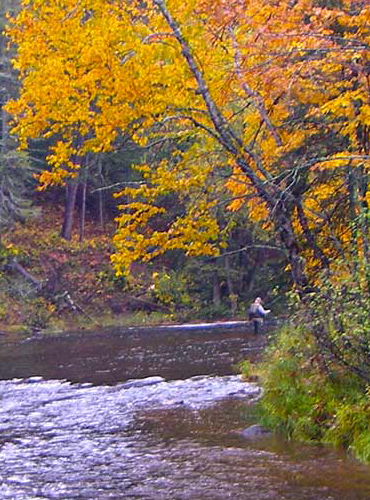 STREAM FLOW REPORT

Streamflow: 1720 ft³/s
Gage height: 4.63 ft

USGS
WISCONSIN RIVER AT STEVENS POINT